Silverstone Round 8 Race Report
The penultimate round of the Triumph Triple Challenge saw a huge grid of 35 riders take to the famous Northamptonshire circuit of Silverstone. Having race there as a wildcard in 2012 on my return from injury, I was very much looking forward to getting back on the wide, fast and flowing formula one circuit.
Free Practice was held in wet conditions. Despite it only being practice I was keen to push on and find a good rhythm around the 3.6mile long circuit. It's vital to lap times at Silverstone to be able to link up each corner and string together a flowing lap in order to go quick. I finish the session in P2, just shy off the fastest time, feeling very comfortable and enjoying riding the bike even in tricky wet conditions.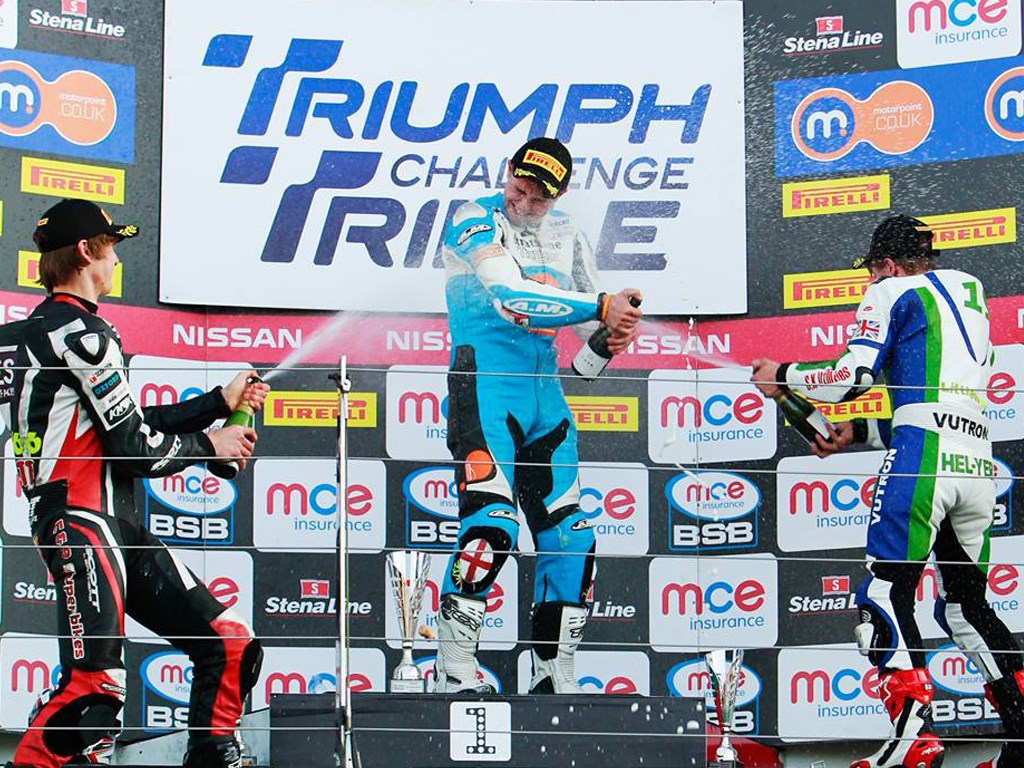 With only 3 riders to a row, Qualifying was going to be very important. I went into it feeling confident & despite a red flag half way through the session, I managed to go out a put in 3 very fast lap times and go top of the time sheets. I thought I had managed to achieve my first pole position since Oulton Park but in the dieing seconds of the session, South African rider Philip Atkinson bumped me down to P2 by 1 tenth of a second!
I made a not so good start to race 1 and slipped back to P5 at one point. However there was nothing more than a second separating the leading 5 riders. Every one of us wanted to lead and there was some great battles and elbow bashing happening at every corner. I had worked my way up to 3rd by the last lap after a couple of well timed out braking moves. Despite a valiant effort, I remained in 3rd position as we crossed the chequered flag, just 0.2seconds from 1st place but unable to stay close enough to the two smaller riders in front down the straights who have a 7mph speed to be able to successfully overtake them. Disappointed not to win, I was still more than happy to score my 7th podium of the season.
Going into race 2, I was aware from the previous race that due to my extra height & weight compared to the other front runners; I was at a top speed deficit of nearly 10mph. I knew that if I wanted to win, I had to try and make a gap to afford getting passed down each straight. I made a good start to the race and after the first 3 laps had fought my way up into the lad. I pushed hard, lapping consistently under the lap record and had managed to stay in the lead going into the last lap. I thought I had done enough and felt that the victory was coming my way until the inevitable happened & Chrissy Rouse flew past me down hanger straight. I had immediately tried to outbrake him at the next corner but had a back off after getting a tank slapper exiting Stowe corner. He then rode extremely defensive & didn't leave me any options to get back into the lead. We closed the finish line just 0.1seconds apart, but unfortunately with him in first and me second. I was gutted to miss out on the victory as I felt I had ridden well enough to deserve it. However I knew I did everything I could & am proud to of scored my 8th Podium of the season.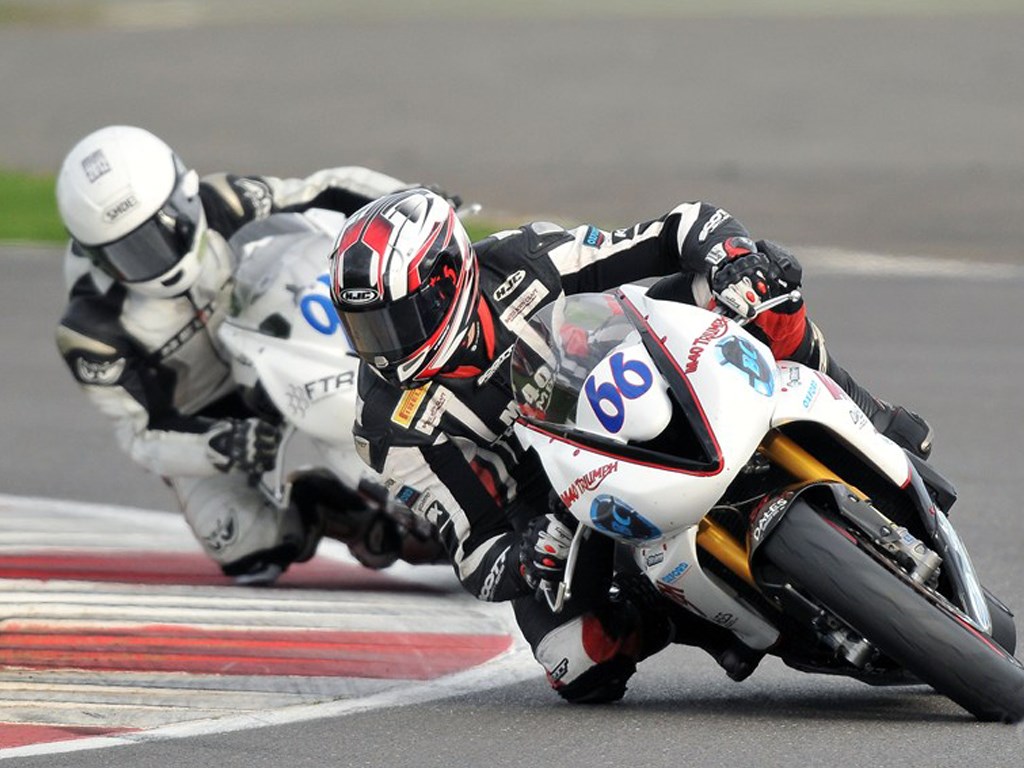 Despite Chrissy Rouse securing the championship victory at Silverstone with 1 round remaining, my 2 podiums have also helped me extend my lead over 3rd place in the championship and I can head into the final round with a bit of a cushion in 2nd place which will hopefully help me achieve the target of finishing runner up Triumph Triple Challenge Champion in 2013 which will be a great achievement after the ups and downs of this year! I'm riding the best I ever have and am really enjoying racing again. To consistently be scoring podiums in the most fiercely competitive one make British championship series is something that I am very proud of. Despite me giving away such a top speed disadvantage I am still able to challenge for race victories which must show how hard I am pushing in the corners and under braking.
I'm looking forward to going to Brands Hatch in 2 weeks time to try and finish the season on a high and then start making some exciting plans for the 2014 season… Watch this space!
Thanks again to my whole team, sponsors and everyone else involved who help keep me racing. I can't thank you all enough.
Cheers
Freddy 66
Thank You to all involved at Freddy Pett Racing:
Hughenden M40 Triumph
Dales Racing
Baker Body Craft
Oxford Products
C&A Superbikes Ltd
HJC Helmets
Planet Knox Amour
Silkolene Oils
Team 66 Members
Scott Leathers
Nevis Marketing
Blue Chip Poker
BK Frank
Watch the race coverage