Freddy Pett Racing – Donington Park

Hi All,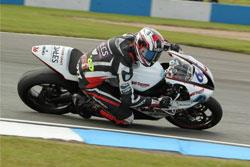 Last weekend saw me compete at Donington Park BSB meeting for round 7 of the Triumph Triple Challenge. Having confirmed at the previous round at Cadwell that my mid season injury woes had vastly improved, i was very much looking forward to racing around the famous East Midlands Circuit.
Fridays practice and qualifying were held in soaking wet conditions and the track was very slippery. Its the first time Ive never been able to get my knee down in the wet! I rode very cautiously not wanting to crash in such unpredictable conditions and risk hurting myself again. I ended up P4 in practice and went on to achieve my target in qualify which was to play it safe and settle for a front 2 row grid start and did so with a fine 6th place.
Luckily Saturdays Race 1 was held in dry conditions however with no one having any dry track time leading up to the race, it had the makings from to be a very chaotic race which proved to be the case! I made a good start and settled into a top 6 position at the end of lap one and was in a perfect position to challenge for the win. However on lap 2 i made a mistake entering the Foggarty´s Esses corner caused by braking too late and the bike snapping sideways. I ended up running onto the kerbing and dropping 2 positions. In then took me a couple of laps to try and trust the bike in dry conditions and re set my braking markers to suit. I soon found my rhythm again and quickly starting moving back up the field, Cutting my gap to the lead from 3 seconds to 1.5 in just one lap. However immediately after setting the fastest lap of the race, the race was red flagged at the start of lap 6, and the results declared. I was awarded with 7th place which was extremely disappointing, as I was clearly the fastest rider on track and was feeling confident to fight my way into the lead.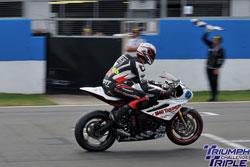 For race 2, i was to start from pole position thanks to setting the fastest lap in race 1 and i was determined to make the most of starting at the front & make amends for shortened race 1! I managed to hole shot the start and despite briefly dropping to 2nd on the open lap, i lead every lap of the race and smashed the lap record by over 6 tenths of a second. I went on to cross the finish line 4.3 seconds in front of 2nd place & take my 3rd win of the season and my 6th appearance on the podium in 2013 in a truly dominant fashion.
After a tough middle part of the season affected by injury, It feels great to be back on the top step of the podium. Its also a real nice incentive knowing i am now the lap record holder around Donington Park GP circuit. Many doubted me but I aways knew that as soon as I was no longer being held back by injury, I would be winning again. I want to dedicate this win to all my fantastic sponsors and my pit crew consisting on my brother and Father for all their hard work and support. Its great to repay them in the best way possible with a win.
You can watch my race on Thursday 12th September at 8.30-9.30pm on the British Superbikes Extras Show on British Eurosport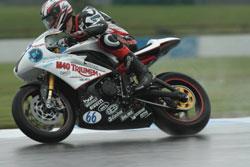 I leave Donington in 2nd place in the championship and having increased my cushion over 3rd. I am really looking forward to the final two rounds of the championship at Silverstone 4-6th October and Brands Hatch GP 18-20th October where i hope to secure runner up champion. After tasting the victory champagne once again, I am determined to ensure its not the last time this season, as i am to finish 2013 on a high!
Silverstone is one of my favorites tracks and i went well there last year so i hope to give you all something to cheer for in a few weeks .
Thanks to all my fantastic Sponsors for their continued hard work and support.
Catch up with you all again soon!
Cheers
Freddy 66
Thank You to all involved at Freddy Pett Racing:
Hughenden M40 Triumph
Dales Racing
Baker Body Craft
Oxford Products
C&A Superbikes Ltd
HJC Helmets
Planet Knox Armour
Silkolene Oils
Team 66 Members
Scott Leathers
Nevis Marketing
Blue Chip Poker
BK Frank