FREDDY PETT CROWNED CHAMPION AT PENULTIMATE ROUND OF TRISTAR R&G TRIPLE CHALLENGE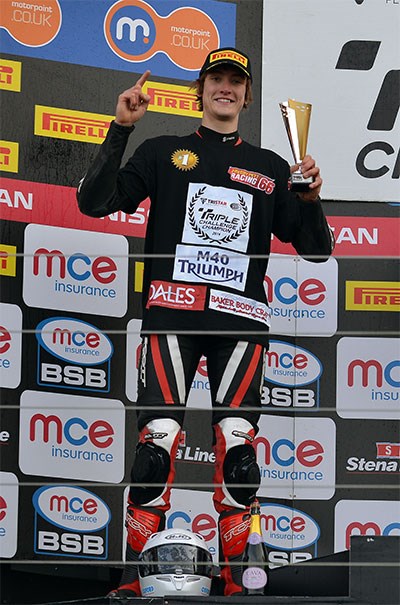 5th October 2014 – Having dominated for much of the year, Freddy Pett was finally crowned 2014 Champion with a brace of second places at Silverstone. In the two action packed races, it was Scott Pitchers and Tom Carne who shared the spoils in the main class while Max Alexander continued to impress to take his first double victory in the Cup class.
Not letting the pressure get to him, Freddy Pett kicked the weekend off by setting the pace in both Free Practice and Qualifying, taking pole position by 1.019s ahead of second placed Scott Pitchers. It was a similar story in the Cup class with Sam Thompson taking a second row start in sixth, two places ahead of Terry Lewis.
Despite his dominance in the dry of Friday, heavy rain arrived at the Northamptonshire circuit throwing the race wide open. Although it was Pett who grabbed the holeshot into the opening corner, Pitchers nabbed the lead into the next corner and would not be headed for the remainder of the race, crossing the line 5.937s ahead of Pett, who set the fastest lap on his final circulation. Rounding out the podium was Phil Atkinson. In the Cup class, Max Alexander took his second win of the year ahead of Andrew Lund and Thompson.
Speaking after the race, Scott said "Yeah it was tricky out there especially as the track dried out. I was trying to get off the dry line on the straights but then actually some corners were still completely wet. It was hard when you were coming out of the corners on the gas when there was different levels of grip. It was an exciting race for sure but I was glad to see the chequered flag!"
With bright, dry and sunny conditions greeting the TriStar R&G Triple Challenge riders for their second race, Pett once again started from pole ahead of Pitchers and Cup competitor Alexander, making his front row debut. With Pitchers unable to repeat his earlier domination, it was a fantastic four way battle between Pett, Carne, Pitchers and Atkinson. Taking the lead on the second lap, the four remained in close contention, with Carne eventually taking the win ahead of Pett and Atkinson, who took a new lap record on lap six. In the Cup class, Alexander doubled up with a second victory ahead of Thompson and Terry Lewis. With only 50 points left up for grabs, Thompson holds a 49.5 point advantage.
Race two winner Tom Carne said, "That was a tricky race to be honest but I loved it out there. I was looking at the gap which never changed and I think I managed to stay ahead through fast corner speeds."
2014 Championship winner Freddy Pett said, "That was harder than I thought it would be, everyone really raised their game for that race. It feels amazing to have win the series a round early especially as this is the home race for my sponsors M40. I missed a big PR event as I needed to test at Cadwell and they said I could make it up to the by winning the series here, which we did! I've got to thank the organisers T3 Racing for running such a fantastic series, I've enjoyed every minute and I'd like to run in the Supersport Evo class next year."
T3 Racing owner and series organiser Tony Scott said, "It's been another fantastic weekend for the TriStar R&G Triple Challenge, with that second race being a real fight between the front four. Firstly I would like to say a huge congratulations to Freddy for wrapping up the title this weekend, he's been a dominant force all year and has proven that by being crowned Champion with a round to go. It was a tough second race but he didn't buckle under the pressure.
Special congratulations also need to go to Scott Pitchers for his incredibly display in the wet race on Saturday as well young Tom Carne for securing his second win of the year. In the Cup class, Sam has all but won the title, but it's also encouraging to see Max Alexander have such a strong finish to the year. We now have one final round of the Triple Challenge left and although I won't be in attendance I'll be listening in to what is sure to be an exciting conclusion to what is arguably one of the best one make series to have happened in Britain."
The TriStar R&G Triple Challenge utilises the hospitality of the world renowned Ace Cafe London, teaming up with the cafe at each of the nine MCE British Superbike events providing exclusive hospitality across all three days of the event. Guests are able to enjoy a full English breakfast upon their arrival and selected hot specialties from the Ace menu for lunch. Drinks and refreshments are also available throughout the day.
For more info about Ace Cafe visit www.ace-cafe-london.com .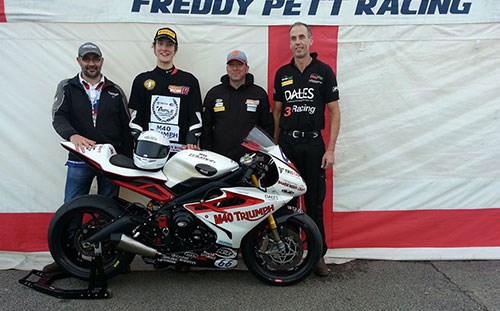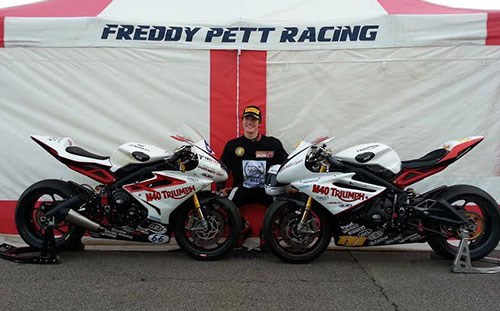 2014 TriStar R&G Triple Challenge Standings
1st – Freddy PETT (245.5)
2nd – Scott PITCHERS (190.5)
3rd – Phil ATKINSON (187.5)
4th – Sam COX (154)
5th – Tom CARNE (134)
2014 TriStar R&G Triple Challenge Cup Standings
1st – Sam THOMPSON (224)
2nd – Terry LEWIS (174.5)
3rd – Max ALEXANDER (165)
4th – Andrew LUND (143)
5th – Mark PENNINGTON (115.5_
Triumph TriStar R&G Triple Challenge Calendar 2014
April 18/19/20/21 – Brands Hatch Indy (Triple Header)
May 03/04/05 – Oulton Park
May 23/24/25 – Donington Park (Supporting WSB)
June 13/14/05 – Snetterton 300 (Triple Header)
August 01/02/03 – Thruxton
August 23/24/25 – Cadwell Park
September 05/06/07 – Donington Park GP
October 03/04/05 – Silverstone GP
October 17/18/19 – Brands Hatch GP